This name may sound very unfamiliar, but you probably know one of his works: Invader Zim. The prime reason for Invader Zim's cancellation was that it was downright too dark for Nickelodeon. But those who watched it knew it's extreme comedic brilliance.
Most people don't know that before creating Invader Zim, Jhonen Vasquez wrote several comic book series. These comic books are the exact same kind of humor as Invader Zim, but more dark, more twisted, and more hilarious by tenfold.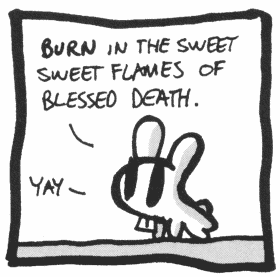 His main work is
Johnny The Homicidal Maniac
. The story revolves around Johnny(nicknamed Nny), a serial killer who kills almost anyone he comes in contact with. It is the center point of all of his stories. Branching from it are
I Feel Sick
, the story of JTHM from the point of view of one of the only people to escape from Nny, Devi. Also branching from JTHM is
Squee!
, the story of Nny's next door neighbor Todd who is nicknamed Squee by his inattentive parents who can't remember his real name. Dispersed throughout these series are short comics that deviate from the main story, "Meanwhile..." "Happy Noodle Boy" and "Fillerbunny" just to name a few.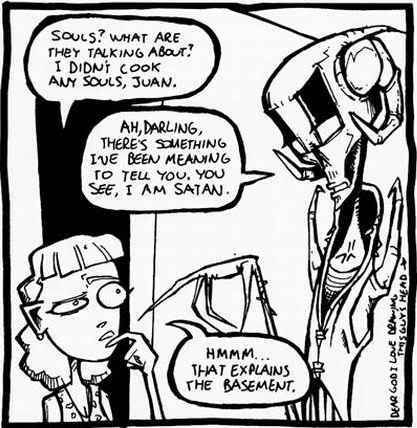 I recommend Squee! as a first read to anyone wanting to check out Vasquez's work. Although you might not understand some references to past works, it is the lightest and most accessible of Vasquez comics.
You can find compilation books of both Squee! and JTHM on Amazon for $10-$15. The remaining comics can be ordered from Slave Labor Graphics, but these two books cover the majority of his work.
In conclusion, these books are hilarious and I recommend them to all who like satirical black comedy.