So, the first race of Formula E happened yesterday and it went rather well. Excellent times were posted for the first of ten races in this inaugural season.
However, it wasn't without some drama. In the very last corner of the race, the heated battle between Nick Heidfeld and Nicolas Prost for the top two podium slots came to a very turbulent end.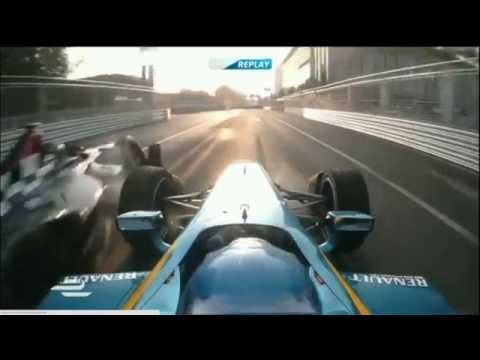 Clearly, Heidfeld was in the wrong here and the crash resulted in neither of them winning the race, the top podium slot going to Lucas di Grassi of Audi Sport ABT who, in a post race interview, came out to say that "obviously, this is not the way we wanted to win the race".
With all the cars currently running the exact same specs, this sport may already be
more of a sport than Formula One.
But not all cars enter the race equal.
Well, the drivers, rather. With the first execution of
#Fanboost
, Bruno Senna, Lucas Di Grassi, Katherine Legge each received a 2.5 second boost where
they were given a one shot, five second long boost to their cars' power output, temporarily increasing their car's power from 150kw (202.5bhp) to 180kw (243bhp).
How this new mechanic of popularity = power will work out across the season is anyones guess, but
it definitely has its opponents.
I'm excited that it'll be hitting Long Beach in April and that it's a free event. Now if I can just manage to get a press pass to it...