Knife and Weapon Attacks
So I recently came upon this video, that proved to be extremely informative. It's part 2 of a 2 part series, but this is the practical side of defence which I feel people should at least know the basics about.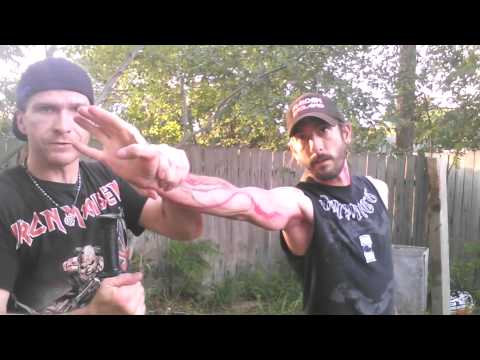 I did Kali, which is an indonesian martial art that makes use of kickboxing and weapons. I remember the knife lesson focusing very heavily on where to attack, and how to reverse situations where people try to take the knife away from you. A lot of priority goes at maiming the arterial areas of the arm, shoulder and armpit. I feel that knife attacks in pop culture, especially in anime, fail to adequately portray the amount of strength and killing intent that one has to go through in order to seriously hurt someone. Even cloth material like Light denim adequately deadens half measured slashing and slicing approaches, and you gotta really put your hip and arms into slashing someone to do any damage, hence why stabbing/ going for the arms, is preferred.
Just kind of curious if any of you guys handled with or know how to handle situations where weapons might be involved.
Also this channel has a great many breakdowns and experiments with weapons old and new. I particularly enjoy their series about types of shields, and the techniques used by the saxons and vikings.