I feel sad for people in dorms. I've seen a lot of college kids' rooms, and they are either messy or bland. That's why I want to start this thread about GeekRooms. What do your rooms look like? I'd assume bedrooms, but any room that you practice your geekeries in is fine. Here is my bedroom now: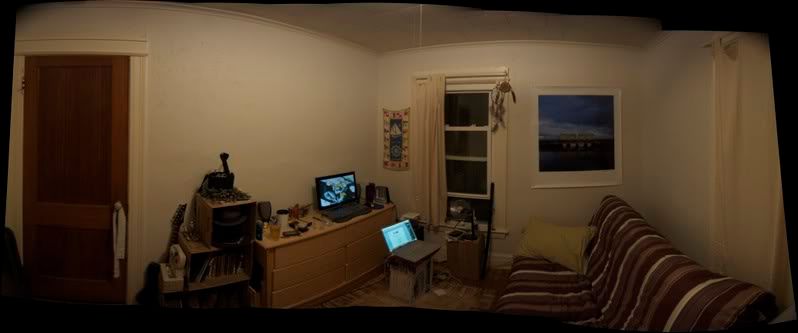 In my room: All of my worldly possessions, including
-Katana
-Shinai
-Futon Couch/Bed
-Desktop that faces said futon, running Winxp and Gentoo
-Laptop, running Winxp and OSX
-Staircase-style shelves made of cardboard boxes. Yes, the top one is my hat shelf.
-Electric Guitar
-Acoustic Guitar
-Keyboard
-Violin
-Bookshelf, with separate sections for
a) Fantasy, arranged by awesomeness
b) Sci-Fi, arranged alpha by author
c) Classics, arranged alpha by author
d) Non-Fiction, arranged by subject (game theory texts are next to Burning Wheel books)
e) Manga/Comics, arranged by series
f) Recent Fiction, nominally arranged by author. This small section is comprised primarily of Bakker, Gaiman, and Murakami.
-Rug of Softness (the best purchase I have ever made)
-A few posters and such. More when I find some thumbtacks.
Sorry for the strangeness of some of the pictures. The lighting is terrible, and two are digital panoramas.